Announcements
TBFC Returns!
Welcome back fossil hunters, it's that time of year again! The kids are back to school (maybe), the dog days of summer will hopefully come to an end (maybe not until October), and it's time to wake the Tampa Bay Fossil Club from its summer hibernation! As usual, your TBFC Officers and Directors have already been hard at work preparing for you another great season of interesting meetings, informative lectures, and field trip adventures, COVID allowing! Are you ready?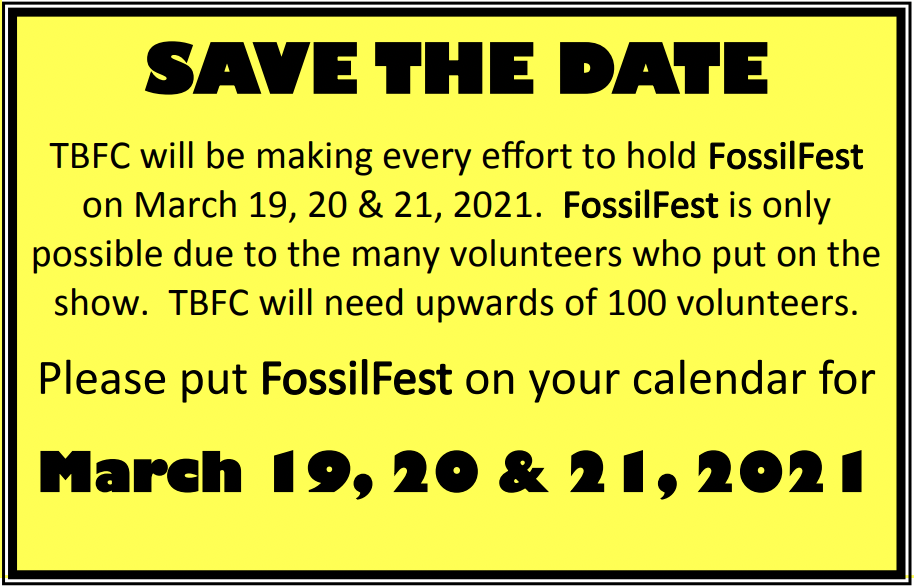 Tampa Bay Fossil Chronicles

Hopefully you've noticed that TBFC has stepped up its game with the newsletter each month. In addition to all of our regular contributors, we've added two new recurring articles this season. "In Touch with Inverts" by Rob Carlson was added in September. In this issue, "Paleo Analysis" by Steve Vicari debuts. Each month Steve will be discussing interesting prehistoric fauna and how they relate to extant species.

Please check out all of the articles in each issue. Only TBFC members receive the Chronicles, we don't post it online or on Facebook.
Jan. 9, 2021
Guest Speaker Chris DeLorey, AKA, Dr. Dino! As seen on Dinosaur Hunters!

7PM VIRTUAL MEETING Live on YouTube