Announcements
Feb. 6, 2021
Guest Speaker Nicole Cannarozzi: Environmental Archaeology, Collection Manager Florida Museum of Natural History

7PM VIRTUAL CLUB MEETING Live on YouTube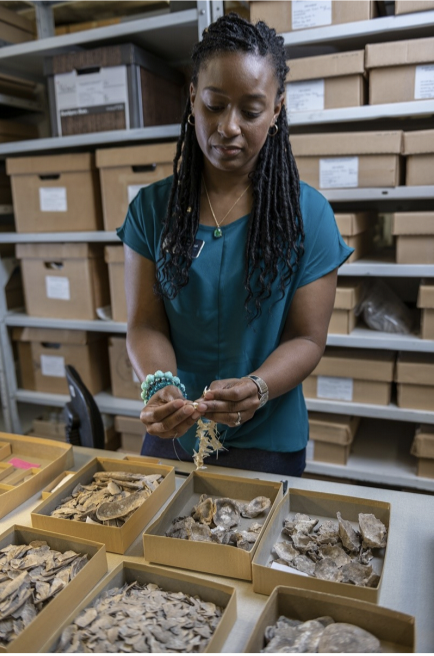 Archaeologist and collections assistant Nicole Cannarozzi was appointed collections manager of the Florida Museum of Natural History's environmental archaeology program in 2018. She originally started at the Florida Museum in 2004 as a faunal analyst after graduating from the University of Florida with a bachelor's degree in anthropology. She's worked with the museum in various positions over the past 14 years while completing her PhD. "The museum is one of the reasons I've stayed in Gainesville," said Cannarozzi, who was hired into her current position in March 2018. "I've been lucky to work in one of the best zooarchaeology labs in the country." Cannarozzi said she wants to focus on outreach, with a goal of recruiting more volunteers and participating in museum-sponsored and external events to expose more people to environmental archaeology. "I'm very happy, it's my dream job," Cannarozzi said. "I really like the integrated nature of the museum where you have many departments and disciplines under one roof. That kind of atmosphere fosters communication and collaboration that is so important for our research."

The Florida Museum environmental archaeology program was established in 1961. Its researchers use soil and animal and plant remains from archaeological sites to better understand past human interactions with the natural environment.
Tampa Bay Fossil Chronicles

Hopefully you've noticed that TBFC has stepped up its game with the newsletter each month. In addition to all of our regular contributors, we've added two new recurring articles this season. "In Touch with Inverts" by Rob Carlson was added in September. In this issue, "Paleo Analysis" by Steve Vicari debuts. Each month Steve will be discussing interesting prehistoric fauna and how they relate to extant species.

Please check out all of the articles in each issue. Only TBFC members receive the Chronicles, we don't post it online or on Facebook.
TBFC SWAP Meet
FossilFest 2021 has been cancelled. As analternative the club will be hosting an outdoor Swap Meet event!