No Meeting in November. There was an online auction on November 14 on TBFC's Facebook page. Thanks to all that participated!
Next Peace River Trip is cancelled for
Nov 21, 2020
- Check the
Field Trips
page or the
Calendar
for details!
President's Message
TBFC – 2020-2021 Season Begins!
TBFC's return from our summer break has always been an exciting time. I don't have to explain to any of you though how COVID-19 has thrown our country for a loop and disrupted a lot of our social activities. For the immediate future, things will be different for TBFC. Staying out of the politics of COVID, I can tell you that TBFC will act responsible and safely until some reasonable type of "all clear" has been sounded.

The University of South Florida (USF) has canceled all non academic activities through December 2020. With USF being our monthly home, we are looking at other possibilities for our meetings. In the immediate future we will begin with a virtual meeting. My hope is that as evening temperatures drop and rain chances lesson, we may be able to schedule an outdoor meeting possibly in October. Please support TBFC during these trying times. Log on for the virtual meetings. Keep your membership up to date. Look for t-shirt and other sales items on our Facebook page. AND, look forward to continuing field trips to the Peace River where we can safely distance ourselves from each other and still hunt for fossils as a group. With your support, TBFC will survive COVID. We will not succumb to the "Ill, Kill, Chill" theory of extinction.

Saying goodbye to friends…
As we begin this 34th season of TBFC, I am saddened to report to you the loss of some of our friends. From nearly the beginning of TBFC Helen Cozzini was a staple at meetings, fieldtrips and events. Many of you new members may not remember Helen as she packed up her husband and followed her dream of retiring to the Badlands of Nebraska back in 1993 (fulltime in 2004). We lost Jan Hendershot during our break too. Jan was the wife of Field Trip Co-director Fred Hendershot. Jan regularly attended TBFC events and sold her handmade jewelry at FossilFest and other shows. Jan did not succumb to COVID, but her isolation because of the virus made her passing horribly difficult for Fred and their daughter Karissa. Jim Ranson, who was one of the first amateur hunters to start finding fossils at the Leisey Shell Pit, passed in late spring. And last but not least, TBFC member Earnest Marshall left this world as well. My thoughts and prayers go out to all of these fine people and to their families. In honor of Helen, Jan, Jim, and Earnest, here we go…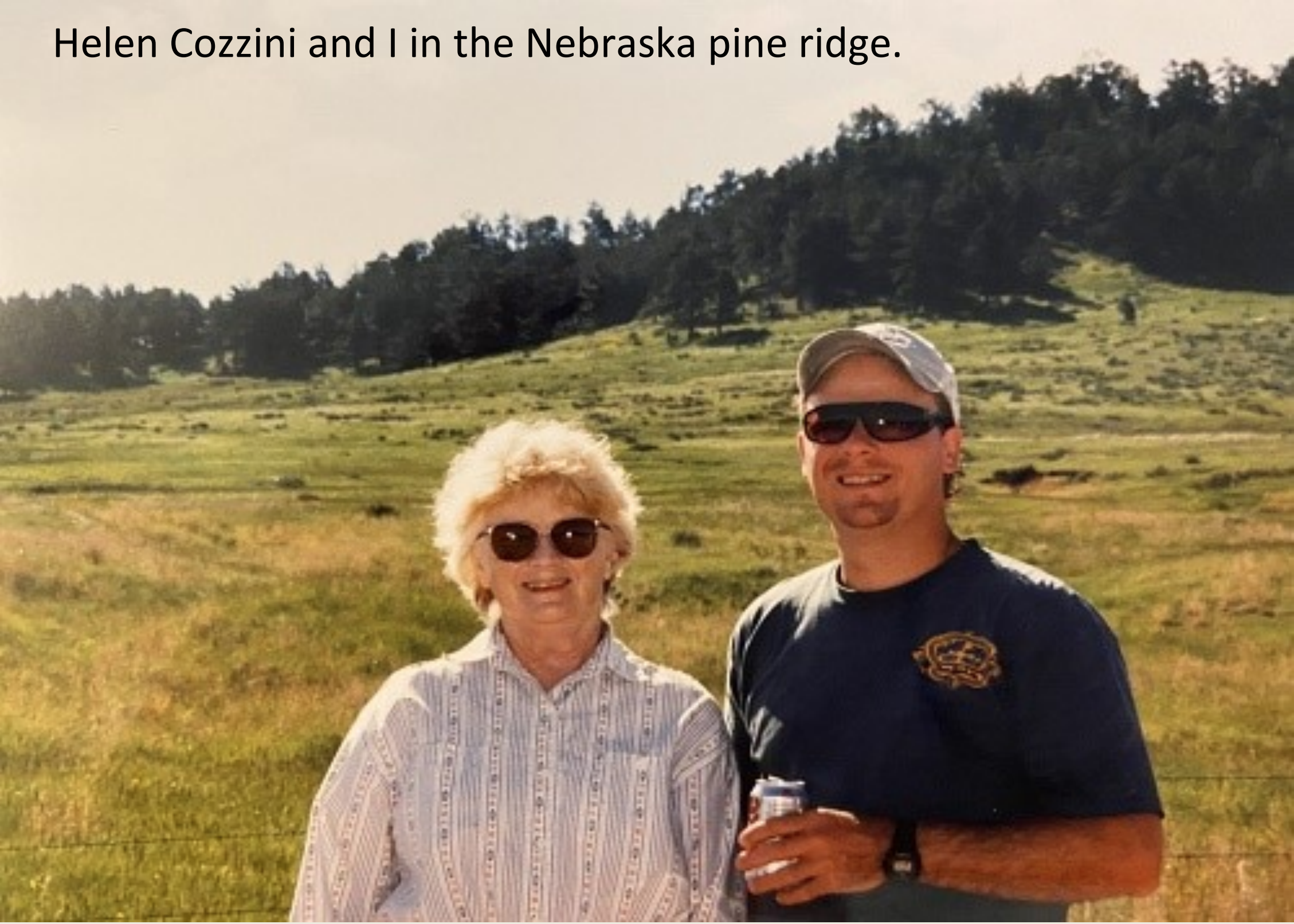 On a personal note, I'd like to say a few more words about Helen Cozzini. My wife Seina and I remained close friends with Helen over the years. During our annual travels to the Badlands we spent time with Helen both socially, and in the field. Thirty years my senior, Helen never had any problems keeping up with our group while hunting for fossils. She could climb through the Badlands as good as anyone I've seen and she was an excellent fossil hunter. It was not unusual to see her walk through an area that others had already hunted and find an excellent fossil. She was patient, thorough, and skilled in the field. She taught both Seina and I how to hunt for fossils in the Badlands. I have often said to myself when rushing or cutting corners while digging or jacketing a specimen, "this isn't how Helen would do it". Her love for the Nebraska town she migrated to and its people was endless. I will miss her often and think of Helen each time I step into the Badlands. Rest in peace sweet lady.

Good hunting!

Mike Searle
Announcements
TBFC Returns!
Welcome back fossil hunters, it's that time of year again! The kids are back to school (maybe), the dog days of summer will hopefully come to an end (maybe not until October), and it's time to wake the Tampa Bay Fossil Club from its summer hibernation! As usual, your TBFC Officers and Directors have already been hard at work preparing for you another great season of interesting meetings, informative lectures, and field trip adventures, COVID allowing! Are you ready?